Here you can learn all about me!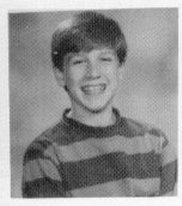 There's me! I know the pic if kinda old but it's my favorite pic of myself because that was before my acne came.
All about myself:

Name: Jacob Jacob Berg Jr.
Religion: Jewish, all non jews should die.
Best friend: SEAN DUFFY! Sean, I don't know what i would do without you, if it wasn't for you I would have no friends. If anybody wants to be my friend let me know!
Allergies: chicken, fish, ham, meat, eggs, nuts, tomatoes, milk, any other dairy product, any other meat product, any fruit product, water, wood, cement, and other various things.
Interesting stuff about myself: I love school and I always look forward to seeing all my favorite teachers everyday. I like to brag about my lacross and hockey skills and make fun of people, but don't make fun of me! In my free time I like to watch japanimation on tv and my favorite show right now is Pokemon: The ultimate season. I enjoy hanging out with other guys so if you want to do something i'm always open. Right now i've kind of given up on girls, they just don't like me, why i dunno. So if you're a guy, preferably with allergies then i'm your man and we can hook up anytime!

Well that's it for now and soon I will update with my free t-shirt collection page! but for now i'll just end with this poem I made to my duff:

O duff o duff what would I do without thee,
You are so great and are willing to hang out with me.
When I am alone I feel so lost,
But when I am with you it is at no cost.
I adore you so much when we are near or far,
And you may not feel the same but I can't wait till you get a car.
I love your intelligence and I wish I could be as smart,
For if i didn't I would live at k-mart.
O duff o duff you are in my heart,
O duff o duff you're much more than any normal fart.